Chic and Sophisticated NASA Scalemaille Bracelet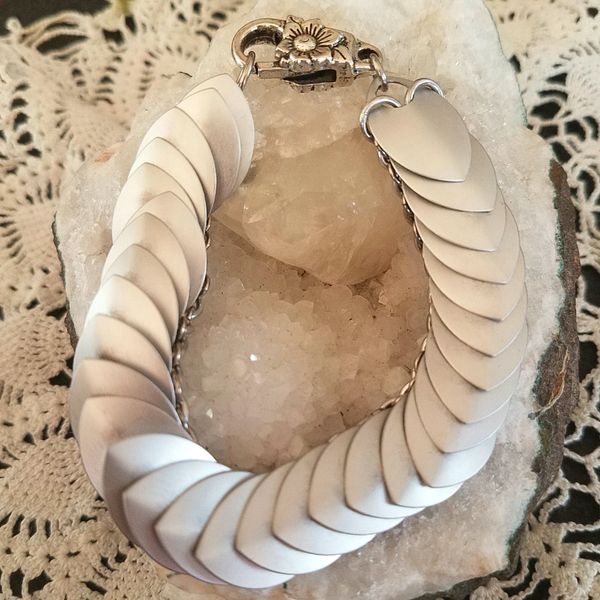 Chic and Sophisticated NASA Scalemaille Bracelet
One of my most popular items at the art and craft shows is the bracelet crafted of scales. Metal scales were originally used in armor by the Chinese dating around 500 BC to 200 BC. As is the case with what we now refer to as "European 4 in 1" or the traditional European style of chainmaille armor, there is much history that serves to make wearing scalemaille pieces not only beautiful and chic, but quite the topic of conversation! I cannot keep these in stock at shows, so take advantage of the opportunity. These particular scales are very limited in quantity, never to be made again. Why?
This scalemaille bracelet has an additional element to make it extremely interesting. These scales were produced by a company that makes a variety of rings and other scales for the chainmaille crafting community. This company was approached by NASA to cut scales of a specially formulated aluminum that is 42% lighter than traditional aluminum but very strong and heat resistant. NASA ordered 20,00 scales to place as a heat shield on the Insight Land Rover that is planned to launch to Mars in 2018. After NASA purchased the required quantity, sheets of this aluminum remained, so the company cut additional scales for use by the chainmaille community. My husband likes to say that "we purchased the scales twice - first with our tax dollars, and then again when I bought a supply to use for my jewelry.
The foundation for the scales is rings of "bright" silvery aluminum, and I finished the bracelet with a pewter lobster claw clasp in a wildflower design. These scalemaille pieces are fun to wear and ever so chic and sophisticated, but very versatile, and you will be playing with it. It's almost therapeutic. I can always guarantee people who come to my table will be touching the scalemaille!
This bracelet measures 8" x 5/8." I can shorten at no additional cost. Just let me know you requested size.
Reviews